WWDC 2021 Recap and IOS 15 New Features
Apple iPhone 13 alongside other new products are expected to be unveiled in the next Apple event, which is rumoured to take place in less than 10 days. We know all eyes are now on the new iPhone and we are all dying to know what hardware changes are in store for us, but as the leading app company in the Nordics, we would like to hark back to WWDC 2021 and take this opportunity to introduce the changes in IOS 15 that will come together with the new iPhone.
Why is it important to know the new changes? It's because all these changes could have significant impacts on your business, be it improving user experience of your apps, unlocking business opportunities, or helping you get better insights from your users. WWDC 2021, which was held in June this year, offered over 200 sessions to showcase new possibilities and demonstrate new features in IOS 15. What better way to go through some of the most interesting presentations from WWDC 2021 and learn the most important new features in IOS 15 here with us?
Vertically resizable sheet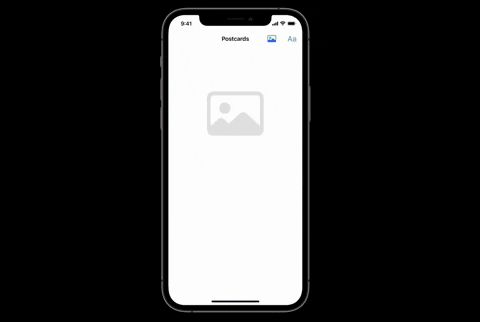 Pull-to-dismiss sheets (modal views) have made our lives much easier since the introduction in iOS 13. In iOS 15, we even get a noticeable upgrade! With UIKit, developers can bring seamless dual-view experience to your app easily, maximising the use of screen space. By simply pulling the sheet up and down, users can enjoy an undisrupted experience of interacting with both the upper and lower parts and resizing the lower sheet smoothly.
Want to learn more about it? Check out the digital postcard demo at Customize and resize sheets in UIKit. 
Camera for keyboard input in your app
There is already quite some buzz going on about the iOS 15's new OCR feature Live Text. What you may not know is that you will be able to use it with literally any text field on your phone. Whether you are messaging your friend, jotting notes in the notes app, or filling in a form in a bank app, all you need to do is to double tap a text field and choose the new "text from camera" option in the text select menu (like how you usually copy and paste words).
Using the camera to import any non-digital texts, including handwriting, is going to be an absolute winner for users. Want to learn more about the OCR feature? Watch this session — Use the camera for keyboard input in your app.
Location Button
Apple is introducing Location Button in IOS 15, letting users give "allow once" permission to the app without having to deal with the tedious permission prompt or going all the way to your phone settings. Location Button isn't a groundbreaking feature but it's going to fix a particular UX problem that has been plaguing users for a while. We are excited to see it in action and observe how it can enhance user experience in general!
Want to learn more about Location Button? Check out this session — Meet the Location Button.
In-app Events
Keeping users engaged is a tough job, but soon it will be easier since Apple is introducing in-app events to the App Store this year. In-app events will be discoverable on the App Store, integrated on your product page, and potentially highlighted in the Today section. They will also have their unique event's detail pages so that you can easily promote your in-app events using email, website and social media.  
This will open up new opportunities to keep your existing users engaged and interested, reach out to new potential users, and rekindle interest in your products. You will also be able to see how well in-app events perform in Analytics.
Want to learn more about in-app events? Check out Meet in-app events on the App Store.
Custom Product Pages
In-app event isn't the only new addition to the product profile page. Apple is also introducing Custom Product Pages and Product Page Optimization this year. Custom Product Pages are great news for marketing teams. It helps us target different audiences effectively by highlighting features and content that are more relevant to specific audience groups. 
We will be able to create up to 35 Custom Product Pages with varying promotional texts, screenshots, and app previews for different audiences, and each of them comes with a unique url and metric in Analytics. It's never been so easy to do marketing campaigns for your apps!
Better still, we can complement it by using Product Page Optimization, which allows us to do A/B testing with alternative designs and approaches. We will be able to create up to three unique treatments and choose the percentage of our audience that will see one of the treatments. As the old adage goes: when in doubt, test it and let data speak. Soon we will know for sure which design and approach yield better results with the audience.
You can find more details of the changes of the product page at this session Get ready to optimize your App Store product page. And don't miss out on the changes in App Analytics, check out What's new in App Analytics.
2021 Apple Design Awards
Apple Design Awards, an annual event that celebrates the best app designs of the year, is an often forgotten gem of WWDC. This year Apple rewarded 12 apps in six categories, which are Inclusivity, Delight and Fun, Interaction, Visuals and Graphics, and Innovation. 
The Apple Design Awards gives us a good opportunity to remind ourselves of the unlimited potential of apps as a creative, inventive medium that propels changes and innovation in society. This year's winners Voice Dream Reader — a winner in the Inclusivity category — and Be My Eyes — a winner in the Social Impact category — are two great examples of how apps with excellent design can create a real impact in the world today.